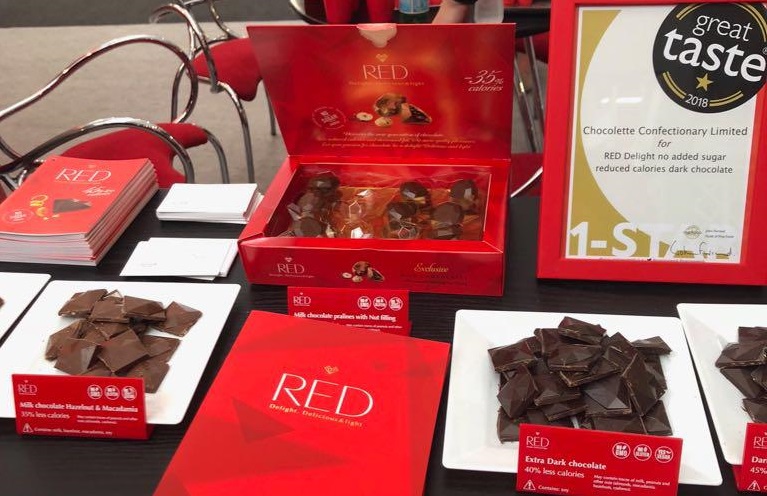 Product Tasting – Low Calorie Chocolate Made With Erythritol
While visiting the Speciality and Fine Food Fair last November we came across so many exciting and innovative food companies that are gaining traction and have started to turn to recruiters such as Jarvis Johnson to help them source teams and Interim support to help meet Technical standards, particularly when their products are being listed by the UK's major retailers.
One of those companies was RED, a chocolate manufacturer who stood out at the exhibition, not only because their stand looked amazing but because they were offering samples of their chocolate that has 45% less calories!  RED were more than happy to supply us with product samples for the Jarvis Johnson Team to test.
Pleasure, without guilt is their marketing message and we can see that with consumers making a conscious effort to change their lifestyle choices for the treats they buy, a chocolate with 45% less calories, less fat and no added sugar is very appealing.
According to RED's market research 49% of consumers are trying to limit their sugar intake and 38% of global respondents are willing to pay more for healthy products.  They also found that sugar content is becoming more of a concern for younger shoppers.
The Technical Facts
RED Chocolate is the first chocolate in the world containing almost half the calories of regular chocolate.  It has received more than 10 invention patents. The key ingredient is the high-quality Cocoa produced by Barry Callebaut, the global industry leader.  All ingredients are natural, no cocoa oil substitutes, artificial colorants or preservatives.
It's also Gluten Free and Vegan which are ever growing markets in the UK so we feel this product will be popular with consumers in the UK.
It was interesting to see that the sweetener used is one of the lesser known sugar alcohol products called Erythritol.  Erythritol is a natural zero-calorie sweetener also known as melon sugar. It occurs naturally in melons, grapes, pears, and some other fruits.  It is considered to be the safest and most popular sweetener in Europe at the moment. According to a Global Info Research Study, the worldwide market for Erythritol is expected to grow at a compound annual growth rate of roughly 10.9% over the next five years, will reach 150 million US$ in 2023, from 81 million US$ in 2017.
Other natural ingredients used are Maltitol, Polydextrose and Inulin.
The Taste Test
So…how does it compare, how does it taste and is it really a true healthier option without too many compromises?
The Jarvis Johnson Team sampled the regular chocolate, chocolate pralines, orange & almond dark chocolate.  All of these varieties were very good! Everyone apart from myself were blind tasting and the whole team said that they wouldn't have thought they were eating a no sugar product and kept sneaking another piece!
There were no noticeable differences and we all said that we would happily eat our way through it all, especially the orange & almond dark chocolate which seemed to be a Jarvis Johnson favourite.
Now over to Lisa, our MD  to let you know her comments, after all she was a Food Industry Technical Manager prior to setting up Jarvis Johnson!
"The interesting thing for me was the use of 4 key natural ingredients, Erythritol, Maltitol, Polydextrose and Inulin.  I think that consumers, especially the Millennials and Gen Z's are becoming more health conscious and are increasingly checking product labels and want to know what they're putting into their body, so the need for healthier ingredients will become more prevalent.  RED have really ticked a number of boxes with their chocolate products which I must admit didn't compromise on taste and I thoroughly enjoyed all the flavours."
In summary, I think it's fair to say that RED Chocolate was a winner with the Jarvis Johnson Team who are all self-confessed chocolate lovers!
Thank you to RED Chocolate for the samples and we hope to see your products on the shelves in UK retailers in the not too distant future.
Blog Contribution by Jane Peace – Jarvis Johnson BDM