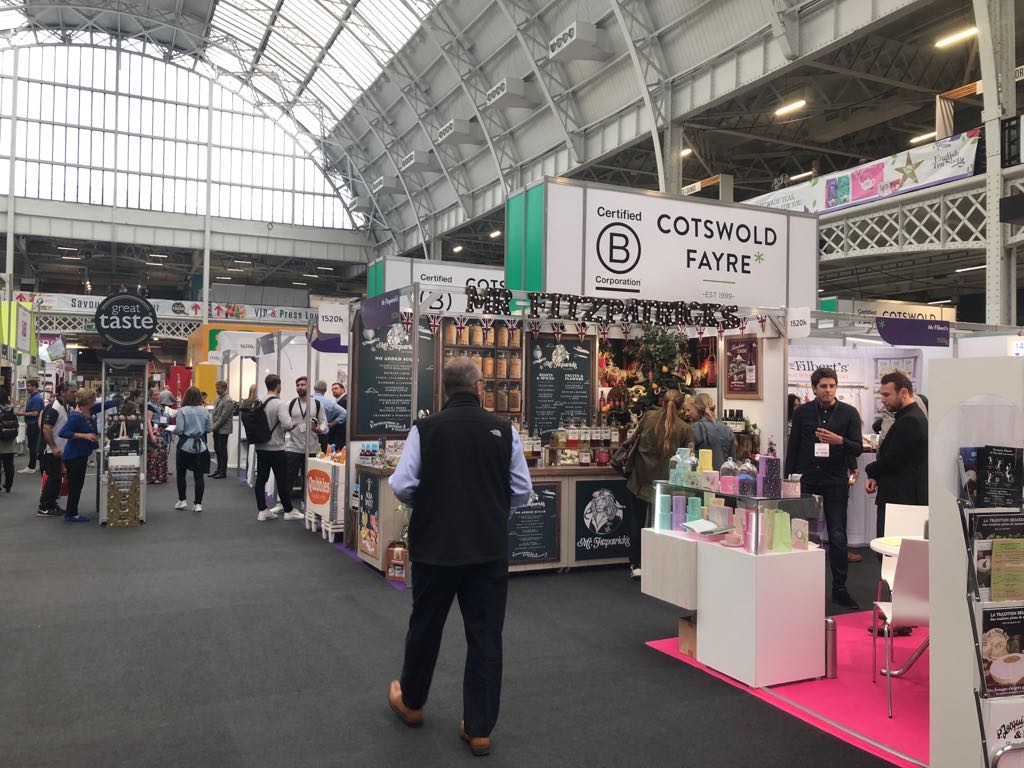 Jarvis Johnson Visit The Speciality & Fine Food Fair
Held annually in September, the Speciality & Fine Food Fair showcases speciality food and drink products from across the world.  The Jarvis Johnson team travelled down to London to find out what the latest trends were, what the future holds for the Industry, to meet new and existing contacts and of course to sample a few delights!
According to a recent article featured in The Grocer magazine, the speciality foods & drinks market is successfully expanding.  A large part of this growth is due to Millennials who are happy to spend more money on one-off purchases of quality, artisan products as they enjoy experimenting rather than staying loyal to the larger, established brands.
The Speciality & Fine Food Fair is aimed at industry only and exhibitors are generally made up of:
30% Retail buyers which are delicatessens, artisan food halls, independent retailers and farm shops as well as top end multiples such as Waitrose.
42% Hospitality buyers which are high end caterers, restaurants, boutique hotels, cafes, pubs and bars and also tourism and transport.
28% Wholesale and distribution buyers.  Importers, distributors of wholesale speciality products in the UK and abroad.
The fair included approximately 519 exhibitors and nearly half of these were overseas companies.  The stands were entrepreneurial producers and manufacturers promoting their own company and expanding businesses within the speciality market.
On the day we spoke with small independent manufacturers as well as some more established brands.  We came across Sophie Wood, the owner of Barmies, a company that make beer baked bar snacks and we loved their story as well as their products.  They have recently been awarded funding from the Seed Fund to help re-brand and expand.  The products are made from 'beer barm' a by-product of the brewing process created during the fermentation of beer.  What a great idea to utilise beer leftovers!
One of the better known companies that we spoke with was Fentimans, a well-established larger brand offering speciality tonics and sparkling soft drink flavours in the drink industry. The majority of ingredients in these products contain no artificial flavours or sweeteners which consumers are becoming increasingly interested in.
The exhibition which was spread over 2 floors and took us on a trail from Scotland to Devon in the UK, as well as Spain, Italy, France, Brazil, Denmark and South Africa and that was in just one day!  From wafts of chocolate, freshly baked breads, brownies and popcorn to aromatic curries it was certainly an experience of the senses as the many aromas filled the food hall.  The stands were amazing with all the goodies to tantalise our taste buds and from a visual point of view the branding and effort of all of the companies was first class.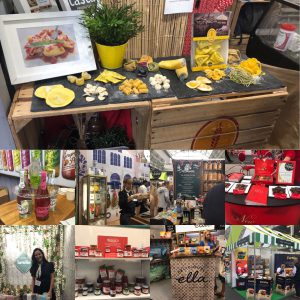 There was also a feasting table where exhibitors engaged with buyers to give smaller producers an opportunity to host demonstrations and a Food Workshop where we could learn about the latest food & drink trends.
All in all, it was a fine day celebrating fine food and drink and we're looking forward to taste testing some of the products in the office.
Our Quest To Find Guest Bloggers
As we're all real foodies at Jarvis Johnson, we have decided do a monthly food blog featuring some of the companies we met at the show as well as any other interesting brands that we come across. We will be starting with Red a 'new generation reduced calorie chocolate' by Chocolette Confectionary.  The Jarvis Johnson team have sampled this range and the taste and quality is excellent despite it being 45% less calories, less fat and no added sugar!  We do have it hard in the Jarvis Johnson office!
If you visited the Speciality & Fine Food Fair or were one of the exhibitors we would love you to share your thoughts and findings  and invite you to be one of our Guest Bloggers.  Simply email jane@jarvisjohnson.co.uk or call us on 01302 366967 and we will let you know what we need from you.